A Bandit Abroad -- My First Trip to Bed Bandits Production Facility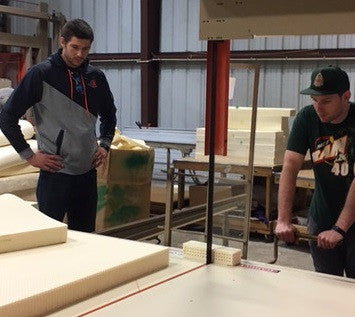 Last week, Patrick and Bianca took me along for my first trip to Fort Bragg, California, where Bed Bandits was founded. 
I've lived in California my whole life, and I've known Patrick for the better part of eight years. Still, I had never made a trip up to his home town. So we decided to change that. 
First of all, Fort Bragg is awesome. It's everything Patrick has been building it up to be all these years. The coastlines are gorgeous, it houses some outstanding craft breweries, and Patrick's mom makes a killer Italian sausage pasta (not that that's available for all tourists, I'm just saying good work should be recognized). 
But the truth was we were there for more than just second and third helpings of Mrs. Turner's pasta. We had some important work to do. 
I was introduced to the manufacturing facility where our toppers are made. After over a year of seeing it in photos and videos, I was able to lay my hands on the high-quality Talalay latex that makes our toppers so comfy. 
Patrick and Bianca showed me how we cut our latex to be the perfect fit for every customer. 
They showed me the recycled latex used to fill our channeled toppers and pillows. 
And then I got to see our storefront, located inside the FloBeds store. 
But my own personal tour was only one item on the agenda. Among other things, we also had a very exciting project that took a lot of preparation: a Bed Bandits photo shoot!
With a lot of creativity and a few trips to Target, we were able to transform the Turner household's guest bedroom into a makeshift dorm room. And with some help from some awesome Fort Bragg High School students, we were able to put together something we think you'll love! The photos will be featured in upcoming promotional material, but here's a behind the scenes picture:
One of the students in the shoot said the room looked like "Pintrest in real life". Which is, good, right? 
All in all it was a great trip with awesome business partners and friends. We're looking forward to our next adventure very soon. Thanks everyone for your continued support!
5 Responses
Leave a comment